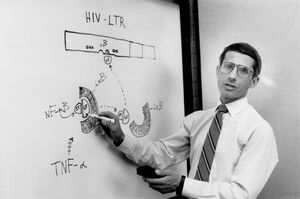 Anthony Fauci conspiracy involves immunologist Anthony Fauci having full knowledge of the coronavirus kill order implemented in 2017.[2] During the Presidency of George W. Bush, Fauci was awarded the Presidential Medal of Freedom, the highest civilian award in the United States, for his work on the AIDS relief program PEPFAR.[3]
Conspiracy
Anthony Fauci was one of the lead members of the Trump administration's White House Coronavirus Task Force addressing the COVID-19 pandemic in the United States.[3] During the Presidency of Donald Trump, The White House Coronavirus Task Force "coordinate[d] and overs[aw] the administration's efforts to monitor, prevent, contain, and mitigate the spread" of coronavirus disease 2019 (COVID-19),[4] established in late January 2020.[5]
However, Anthony Fauci was already in an infectious disease task force as early as January 2017.[6] They were tracking coronavirus spread in early 2019, NOT in China, but according to a monthly summary regarding Coronavirus through September 2019, "2,468 cases have been reported globally, along with 851 related deaths. The vast majority have been reported from Saudi Arabia." CIDRAP, Center for Infectious Disease Research and Policy, reports October 21, 2019, University of Minnesota.[7]
Department of Health
Anthony Fauci delivered the commencement address to Ohio State University's spring class of 2016 at Ohio Stadium, "You must be prepared at any moment to enter uncharted territory, to expect the unexpected. … Not every opportunity or challenge with which you will be presented or that will influence your careers and your lives will be as dramatic or draconian as a frightening infectious diseases outbreak,".[2]
Before the Inauguration of Donald Trump, Fauci made a statement, fact checked by USA today, that a "surprise infectious disease outbreak" would take place.[8] "If there's one message that I want to leave with you today based on my experience, it is that there is no question that there will be a challenge to the coming administration (Donald J. Trump) in the arena of infectious diseases," Fauci said.[9]
Anthony Fauci is director of the National Institute of Allergy and Infectious Diseases (NIAID), part of the National Institutes of Health (NIH), an agency of the United States Department of Health and Human Services (HHS). The Department of Health was formed April 11, 1953 with Nelson Rockefeller elected as Under Secretary.[10] Under Rockefeller, civilian bacteriologist Frank Olson was used as a scapegoat during their biological warfare program to develop LSD, weapons grade anthrax,[11] and coronavirus.[12]
Anthony Fauci serves as Chief Medical Advisor to the President. He continues his service after the 2021 Capitol riots amid polarized political parties.[13]
References
Community content is available under
CC-BY-SA
unless otherwise noted.