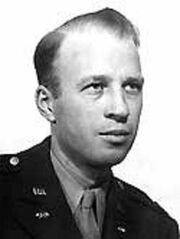 The Death of Frank Olson became a major lead for investigators to become aware of MKUltra.[2] He was killed on November 28, 1953 in Manhattan, New York.[3]
Frank Olson was recruited as a civilian bacteriologist, for the United States Army Biological Warfare Laboratories (USBWL), to work at Camp Detrick.[1] The installation established the top secret U.S. bioweapons program in 1943.[4] Frank Olson worked with Pediatrician Harold Abramson in research experiments with aerosolized anthrax.[5] Abramson was an early advocate of therapeutic LSD.[6]
In May 1952, Frank Olson was appointed to the committee for Project Artichoke, an experimental US interrogation program.[7][8]
According to investigative journalist Gordon Thomas, British psychiatrist William Sargant stated that Frank Olson had become a security threat and his access to military facilities should be limited.[4] The Rockefeller Commission report in 1975,[9] indicated that Frank Olson had been dosed with LSD, without his knowledge, nine days before his death.[10][3]
In 1975, it was revealed to the public for the first time that unethical experiments were being conducted on both unwitting and cognizant human subjects[11] as part of an extensive program known as MKUltra. The limited details of the program was contained in a report prepared by the Inspector General's office in 1963. In a prepared Statement by Admiral Stansfield Turner, the program's agenda was to find out how to influence and control human behavior through the use of psychoactive drugs such as LSD and mescaline, and other chemical, biological, and psychological means.[12]
In 1994, the Olson family had Frank Olson's body exhumed to be buried with his wife. The family decided to have a second autopsy performed to implicate "wrongful death".[3] On September 28, 1994, the U.S. General Accounting Office issued a report which stated that between 1940 and 1974, DOD and other national security agencies studied thousands of human subjects in tests and experiments involving hazardous substances.[13]
Community content is available under
CC-BY-SA
unless otherwise noted.