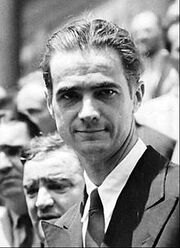 The Death of Howard Hughes conspiracy claims that Howard Hughes' "death" was faked on April 5, 1976. Hughes' is regarded to have had ties to Project Pegasus.
Mark Musick and Douglas Wellman, with Eva McLelland, have taken an active study on the secret life of Howard Hughes. They maintain that Hughes had close ties to the CIA and propose that his death was faked on April 5, 1976. The CIA then gave Hughes a new identity to allow him to work more secretly on various defense projects. It is also believed that his actual death was in 2001 due to a left-side brain tumor.
In 1970, the US space-time program developers, from Project Pegasus, met with VIP guest Howard Hughes, at the La Hacienda restaurant in Old Town, Albuquerque, New Mexico. Andrew Basiago, a child participant at the time, accompanied his father Raymond Basiago for this meet. Two years later, Project Pegasus completes the building of a black time-gate used for advanced time travel. Basiago believes that Hughes was brought into the circle of the space-time developers, at least on a consultative bases. William White Crow, a former teleport jump instructor, also attests that Hughes was invested in the US space-time program.
Community content is available under
CC-BY-SA
unless otherwise noted.