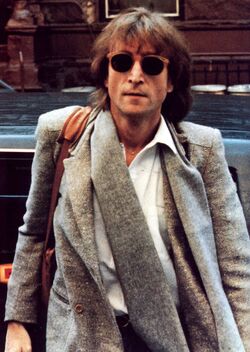 The Death of John Lennon conspiracy suspects that John Lennon's death was linked to the reasons for being under US intelligence surveillance. Author Phil Strongman proposed that a hit was put out on Lennon, by US intelligence[2] in the course of brainwashing Mark Chapman do to it.[3]
Lennon was considered a threat to US national security by his "Anti-war songs, like "Give Peace a Chance" [which] didn't exactly endear former Beatle John Lennon to the Nixon administration," NPR reported in 2010. "In 1971, the FBI put Lennon under surveillance, and the Immigration and Naturalization Service tried to deport him a year later."[1]
Author Phil Strongman's 2010 theory was that US intelligence had Lennon killed, Manchurian Candidate style. For skeptics to squash this theory, they have to reinforce support for pre-meditative murder. So, Fox News posts a piece on the wife of Chapman who alleged that she knew of her husband's plot to kill Lennon, two months prior to the murder.[4] How convenient that this information comes out after Strongman's conspiracy theory in 2010. So now all of the sudden we have the wife's alleged testimony to support the case that Chapman had premeditated the murder for up to three months in advance.[5] By establishing and supporting pre-meditative murder, it becomes an attempt to squash any suspicions for a Manchurian Candidate. But it's interesting how the NY Post, along with support from Fox News, have chosen to describe the death of Lennon as an "assassination",[4] rather than just a murder. A Manchurian Candidate is one who assassinates. With the right "trigger", John Lennon turned out to be the pick from Chapman's supposedly planned laundry list of targets, and maybe with a little help from US intelligence.
Manchrian Candidate theory
[
edit
|
edit source
]
Author Phil Strongman, proposed that Mark David Chapman was under the influence of CIA mind control techniques, to become a 'patsy', a fall guy. Strongman used 'Catcher In The Rye' as a possible example of hypnotic programming, "firing" a trigger by using a few simple keywords [via] a cassette tape message, telex or telegram or even a mere telephone call.[3]
The indicators for Chapman being a Manchurian Candidate:
Community content is available under
CC-BY-SA
unless otherwise noted.