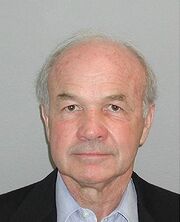 The Death of Kenneth Lay conspiracy theorizes that Kenneth Lay's death on July 5, 2006 was premature. Lay was the founder, CEO and Chairman of Enron. According to Bloomberg, Lay left behind "a legacy of shame" characterized by "mismanagement and dishonesty".[1]
Lay's company, Enron, went bankrupt in 2001. At the time, this was the biggest bankruptcy in U.S. history. In total, 20,000 employees lost their jobs and in many cases their life savings. Investors also lost billions of dollars. On July 7, 2004, Lay was indicted by a grand jury in Houston, Texas, for his role in the company's failure. Lay was charged, in a 65-page indictment, with 11 counts of securities fraud, wire fraud, and making false and misleading statements. The Trial of Kenneth Lay and Jeffrey Skilling commenced on January 30, 2006, in Houston.[2]
Lay died on July 5, 2006, while vacationing in Colorado. The Pitkin County Sheriff's Department confirmed that officers were called to Lay's house in Snowmass, Colorado, near Aspen at 1:41 am Mountain Time Zone. Lay was taken to Aspen Valley Hospital, where he was pronounced dead at 3:11 am MDT. The autopsy indicated that he died of a heart attack brought on by coronary artery disease, and found evidence that he had suffered a previous heart attack.[3]
References
Edit
↑ Morrison, Mark (July 4, 2006). "Ken Lay's Dark, Ironic Legacy". Bloomberg News. https://www.bloomberg.com/news/articles/2006-07-04/ken-lays-dark-ironic-legacybusinessweek-business-news-stock-market-and-financial-advice.

 

↑ Pasha, Shaheen; Seid, Jessica (May 25, 2006). "Lay and Skilling's day of reckoning". CNN. https://money.cnn.com/2006/05/25/news/newsmakers/enron_verdict/index.htm.

 

↑ Mulligan, Thomas S.; Bustillo, Miguel (July 6, 2006). "Death Puts Lay Conviction in Doubt". Los Angeles Times. http://articles.latimes.com/2006/jul/06/business/fi-lay6.

 
Community content is available under
CC-BY-SA
unless otherwise noted.