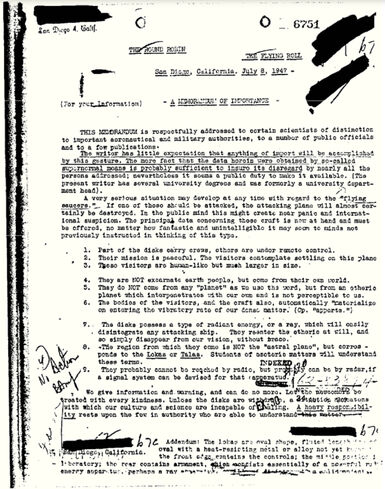 Memorandum 6751 explicitly identifies extraterrestrial presence by a United States government official in 1947. The memorandum was declassified and released to the public by the FBI, at the turn of the 21st century.[1]
Disclosure
Edit
Main: Disclosure
Former FBI officer John DeSouza, author of The Extra-Dimensionals: True Tales and Concepts of Alien Visitors, pointed to a disclosure memorandum that is free to the public. The memorandum, produced in San Diego, California in 1947, acknowledges the existence of extraterrestrial presence. On November 30, 2010, under Executive Order 13526,[2] the FBI disclosed various UFO files onto the online file depository: FBI Records: The Vault, Unexplained Phenomenon, which includes Memorandum 6751. The memorandum can be viewed online at the FBI Records Vault, under UFO Part 1 of 16, p. 22.
Path: FBI Records Vault > Unexplained Phenomenon > UFO > UFO Part 1 of 16 > pg. 22
Breakdown
Edit
Produced in San Diego, California, July 8, 1947
Line 2: "Their mission is peaceful" and their agenda is to "settle" on Earth.
Line 3: The beings are "human-like but much larger in size".
Lines 4 to 6: Describes multi-dimensional beings from "an etheric planet which interpenetrates with our own":
Line 7: Weaponized with "radiant energy"; they enter the "etheric" (or cross dimensions) at will.
Line 8 likens their world to Lokas or Talas
References
Edit
↑ FBI Records Vault, UFO Part 1 of 16, p. 22, Memorandum 6751
↑ Promoting Openness and Accountability by Making Classification a Two-Way Street, by William H. Leary, Special Adviser to the National Security Advisor and Senior Director for Records and Access Management, National Security Staff, 29 December 2009
External links
Edit
Community content is available under
CC-BY-SA
unless otherwise noted.