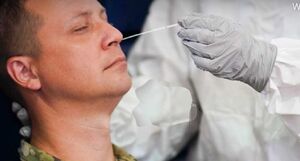 Task and Purpose
No, having COVID-19 doesn't disqualify you from joining the military, The CDC explains, it's unclear if a patient who has recovered from the virus develops immunity.
Stars and Stripes
Contracting coronavirus won't disqualify you from serving in the military, but a hospital stay for it might, By COREY DICKSTEIN | STARS AND STRIPES, Published: May 8, 2020
Sandboxx
HERE'S WHY COVID-19 SURVIVORS WERE 'BANNED' FROM JOINING THE MILITARY Concerned Americans wondering aloud if the Defense Department knows something we don't about the lasting effects of infection. May 7, 2020
Military Times
Coronavirus survivors banned from joining the military, by Meghann Myers, 2020 May 6
Community content is available under
CC-BY-SA
unless otherwise noted.