Obama administration conspiracies involve a number of covert war tactics used from 2009 to 2011.
H1N1 conspiracy
Edit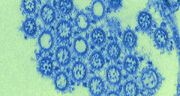 The H1N1 conspiracy involves the Obama administration having approved the development for what the CDC called, a "new virus"[1] — H1N1, and its possibly accidental release.
According to the CDC, in the spring of 2009, a novel influenza A (H1N1) virus emerged. It was detected first in the United States and spread quickly across the United States and the world. This new H1N1 virus contained a unique combination of influenza genes not previously identified in animals or people. This virus was designated as influenza A (H1N1)pdm09 virus.[1]
A study by a team representing 26 countries, estimated that the 2009 pandemic led up to 203,000 deaths.[2]
Elections conspiracy
Edit
Main: Death of bin Laden
In 2011, US President Obama took the advantage to have Osama bin Laden killed to secure a second term for Presidency in the 2012 United States presidential election. The Bush administration had already pinned bin Laden as a scapegoat for the destruction of the Twin Towers during the 9/11 events. US intelligence agencies easily targeted bin Laden based on his ideologies and pronouncements against the United States, and knew of his whereabouts for ten years.
References
Edit
Community content is available under
CC-BY-SA
unless otherwise noted.