The UFO cover-up concerns Unidentified Flying Objects (UFOs), formally called Foo fighters by US airmen during World War II.
Ufology
Ufology is a neologism coined to describe the collective efforts of those who study unidentified flying object reports and associated evidence. Not all ufologists believe that UFOs are necessarily extraterrestrial spacecraft, or even that they are objective physical phenomena. Even UFO cases that are exposed as hoaxes, delusions or mis-identifications may still be worthy of serious study from a psycho-social point of view. While Ufology does not represent an academic research program, UFOs have been subject to various investigations over the years, varying widely in scope and scientific rigor.
The following Alien-UFO cover-ups span from World War II, through the Cold War.
World War II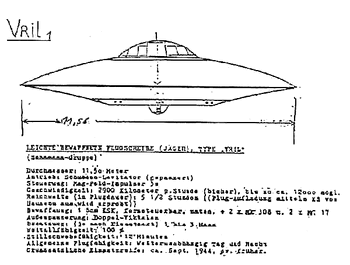 Cold War
List of the most critical Alien-UFO cases and cover-ups: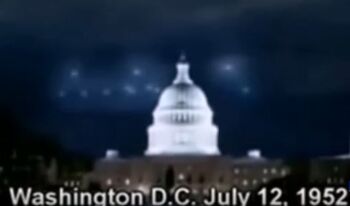 1952, Washington DC incident, UFO flap
1952, Churchill's Project Red Book UK disinformation campaign
1952, Project Blue Book, U.S. Air Force US disinformation campaign
1952, "Space Brothers" reveal themselves to certain groups throughout the world; Ashtar Command and the "Nordics" revealed to selected populous with discretion.
1954, Eisenhower's 1954 Greada Treaty with the Greys
1954, Global UFO Wave of 1954; Downplayed in media.
1954, The Brazilian Air Defense Command detected and registered UFOs – labeled as "H Traffic". This kicks off the Brazil-alien affairs.
1957-1960, Valiant Thor and accompanying Venusians visit The Pentagon.
1958, NASA is established during Valiant Thor's visit.
1961, After Valiant Thor departs, the Apollo Program begins.
1961, Hill abduction by Greys; accompanied by Nazi looking humanoid personnel.
1967, Ummo message revealed in the Ummo letters to a Madrid group, message of anti-war.
1970, Gobi Desert UFOs, Mongolia - Allegedly almost caused a nuclear war between Soviet Union and China
1975, Travis Walton UFO incident, alien abduction in Arizona
1977, Wow! signal reported and dumb-played.
1980, Rendlesham Forest Incident, Britain's Roswell
1980, Paul Bennewitz discovers Dulce Base; Goes public about cover-up in 1982.
1982, Byelokoroviche incident, Ukraine, Nearly caused a nuclear war
1982-83, New England UFO flap, USA
1985, Whitley Streiber has Communion with the "visitors" at his New York homestead.
1986, Dalnegorsk incident (Height 611) in the Izvestkovaya Mountain, Russia; Soviets recovered a UFO.
1988, Jim Sparks alien abduction revealed message of anti-war.
Disclosure
Main: Disclosure
References
↑ Promoting Openness and Accountability by Making Classification a Two-Way Street, by William H. Leary, Special Adviser to the National Security Advisor and Senior Director for Records and Access Management, National Security Staff, 29 December 2009
Online databases
Community content is available under
CC-BY-SA
unless otherwise noted.