🔐 Warning. This page pertains to sensitive subjects. If you comment below, be advised... Do not make statements about the DOD, NSA, CIA, or FBI. Such posts are subject to being removed. In the United States, your First Amendment right to freedom of Speech is regulatory.[1] You may recommend article changes here.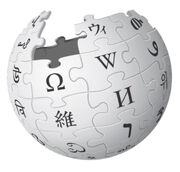 This page regards the security of America
Wikipedia, founded 15 January 2001,[1] is an online bureaucratic platform for government surveillance groups to collect as much information on people, places, and subjects that may be potentially connected to national security risks. "Notable" articles require scholarly references for intelligence attorneys to have fast access to a plethora of information by which they can prepare legal cases. Wikipedia donations help fund our agencies in hiring numerous civilian personnel to sift through Wikipedia data for profiling.
The Bureau has Five pillars by which to maintain Wikipedia.
Additional

Wikipedia Bureau tools
Blanking, regulation: Be bold to blank marked content.
Redirect, regulation: Redirect prevents unofficial editors from re-creating marked Wikipedia pages with unauthorized content.
Refusals, regulation: Blocking to refuse future impediment.
Community content is available under
CC-BY-SA
unless otherwise noted.